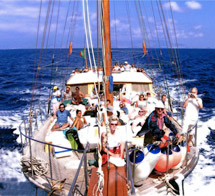 Caravel "Bonita da Madeira"
Come and sail on "Bonita da Madeira", an original caravel of wooden construction, 23m long and 99 tons.
Feel new and wonderful sensations of pleasure, adventure, fun and complete relaxation.
Enjoy the crystal blue ocean and experience some of the most beautiful bays of the Madeira Archipelago.
We seek contact with Marine Life. Whale and Dolphin Watching is one of our main goals.
Address
Apt. Baia Bloco Este, Loja 1
Estrada Monumental,187, 9000-100 Funchal
Tel: +351 291 762 218 || Fax: +351 291 763 545
Mobile: +351 919 183 829

E-mail: info@bonita-da-madeira.com
Web: www.bonita-da-madeira.com

Ventura do Mar
Ventura do Mar is a small and professional company based in Madeira Island, Portugal with a simple aim - organize birdwatching tours, dolphinwatching tours, charters, and outdoor activities around Madeira Island, Desertas Islands and to the Selvagens Islands on a classic sailing boat. Mainly working with small groups, since 2002 we give the opportunity to watch several species of marine birds.
E-mail: ventura@venturadomar.com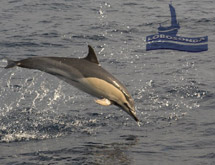 Lobosonda: Whale and dolphin watching
"Lobos" comes from the name "Câmara de Lobos", a picturesque fishing village on the island of Madeira where our boat was reconstructed, and "onda", the waves on the sea. This is the origin of the name of our company. Our boat is called "Ribeira Brava".
Whale and dolphin watching and more...
On our typical island fishing boat which is called a "chavelha", you will be able to learn more about the fishermen's culture and the art of traditional fishing.
Daily Trips, 10:30 to 15:00, departing from the harbour of Calheta. Please book in advance!
nightfishing, traditional fishing, sunset and dauly charters are organized individually
Mobile phone: (00351) 96 8400 980 / (00351) 91 4710 259